Luxury Home Buyers Skew Younger Than Ever Before
Villa Nafisa, Rancho Santa Fe, California, Hilton & Hyland and Wills Allen Real Estate.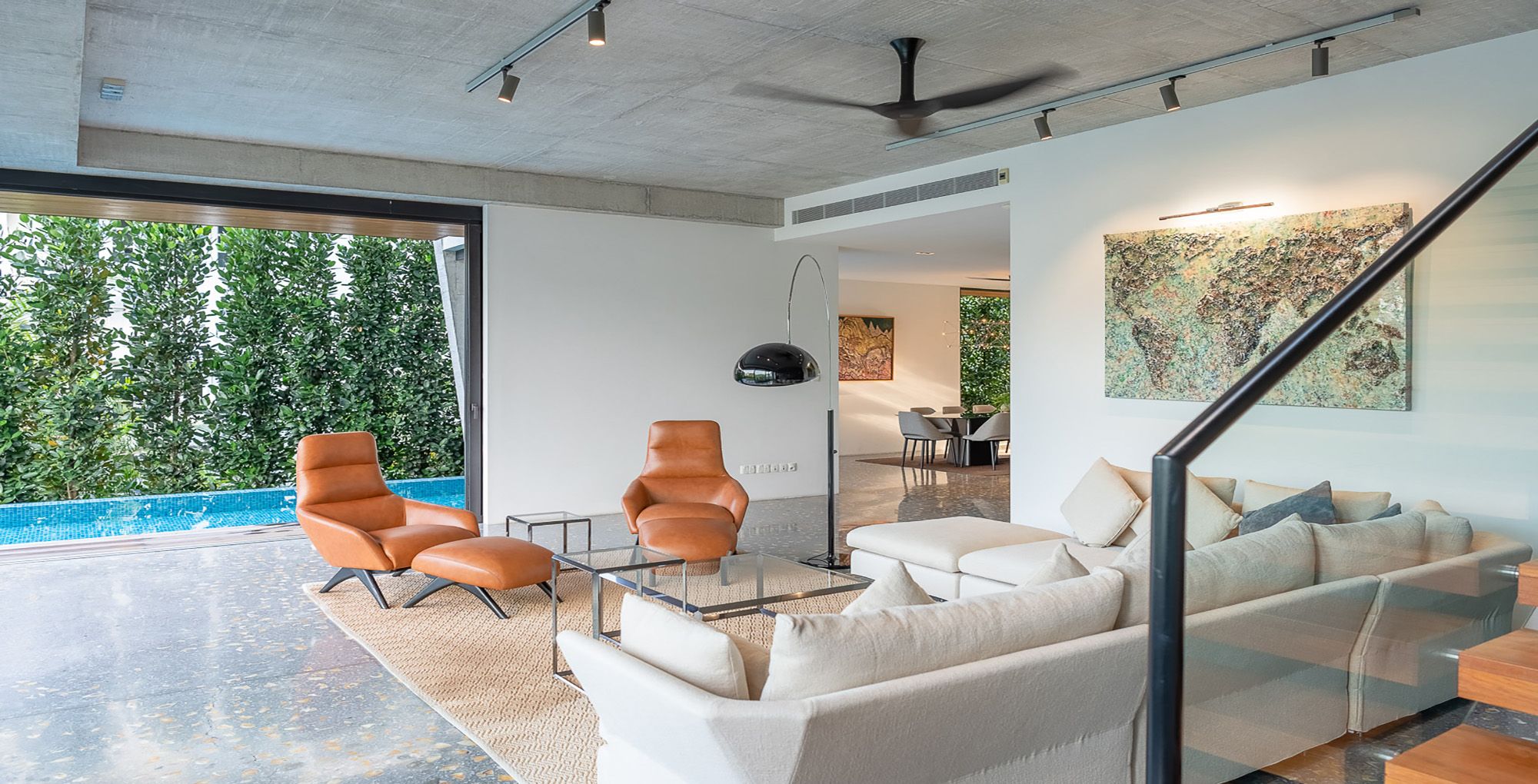 Industrial-Style Semi-Detached House in Singapore. Brilliance Capital.
Across global property markets, younger buyers in 2021 commanded a larger share of the luxury home buying market than ever before.

Buyers under the age of 56 (Gen X, millennials and Gen Z) comprised at least two-thirds of buyers in most of our studied primary home markets and at least half in our selected luxury second home markets.
The millennial generation (ages 25–40) is the world's largest adult demographic cohort and comprises 23% of the global population or 1.8 billion people. More than 60% or 1.1 billion of the world's millennials reside in Asia. It is no surprise that millennials in areas such as Singapore and Dubai comprise an outsized percentage of luxury home buyers—60% and 35% respectively—relative to other prime property markets. And these figures are trending upwards: "The pool of millennials purchasing homes is projected to increase," noted Sammi Lim of Singapore's Brilliance Capital.
Outside of Asia, millennials are rapidly becoming a greater segment of overall luxury buyers as they age into their peak years for homeownership, particularly in primary residence markets such as Boston and parts of California including Los Angeles, Santa Barbara/Montecito, and Ventura County.
"The pool of millenials purchasing homes

is expected to increase"
- Sammi Lim of Brilliance Capital in Singapore
"We have seen a significant demographic shift since the pandemic," said Robert Riskin of Village Properties in Montecito, where median sales price reached US $4.1 million in September. "The biggest change has been the increase in young families making Montecito their primary residence."
Notably, although many of these multi-million-dollar homes are sometimes a millennial buyer's first residential purchase, these properties aren't what would be traditionally considered a 'starter' home. Familial assistance, fueled by the great wealth transfer of capital from Baby Boomers to their adult children, has bolstered the purchasing power of the under-40 buyer. "Sometimes with millennial and Gen Z buyers, parents helped with the down payment and/or provided the funds," noted Renee Grubb of Village Properties.
Familial assistance is not the only contributing factor to the purchasing power of these younger buyers. "With rise of cryptocurrency, we have noticed that y ounger and younger buyers are being introduced to the buyer pool," observed Ryan Knowles of Maison Bahamas Real Estate. "In many cases, these buyers make purchase decisions in a quicker fashion than their older counterparts."
At the highest echelons of the luxury property market, however, millennial buyers remain relatively uncommon. This mirrors the demographics in the global billionaire population—of the 2,755 billionaires worldwide in 2021, only 106 are in millennials (3.8%). This cohort has a combined net worth of US $573 billion, comprising less than 5% of the combined US $13 billion net worth of all billionaires worldwide.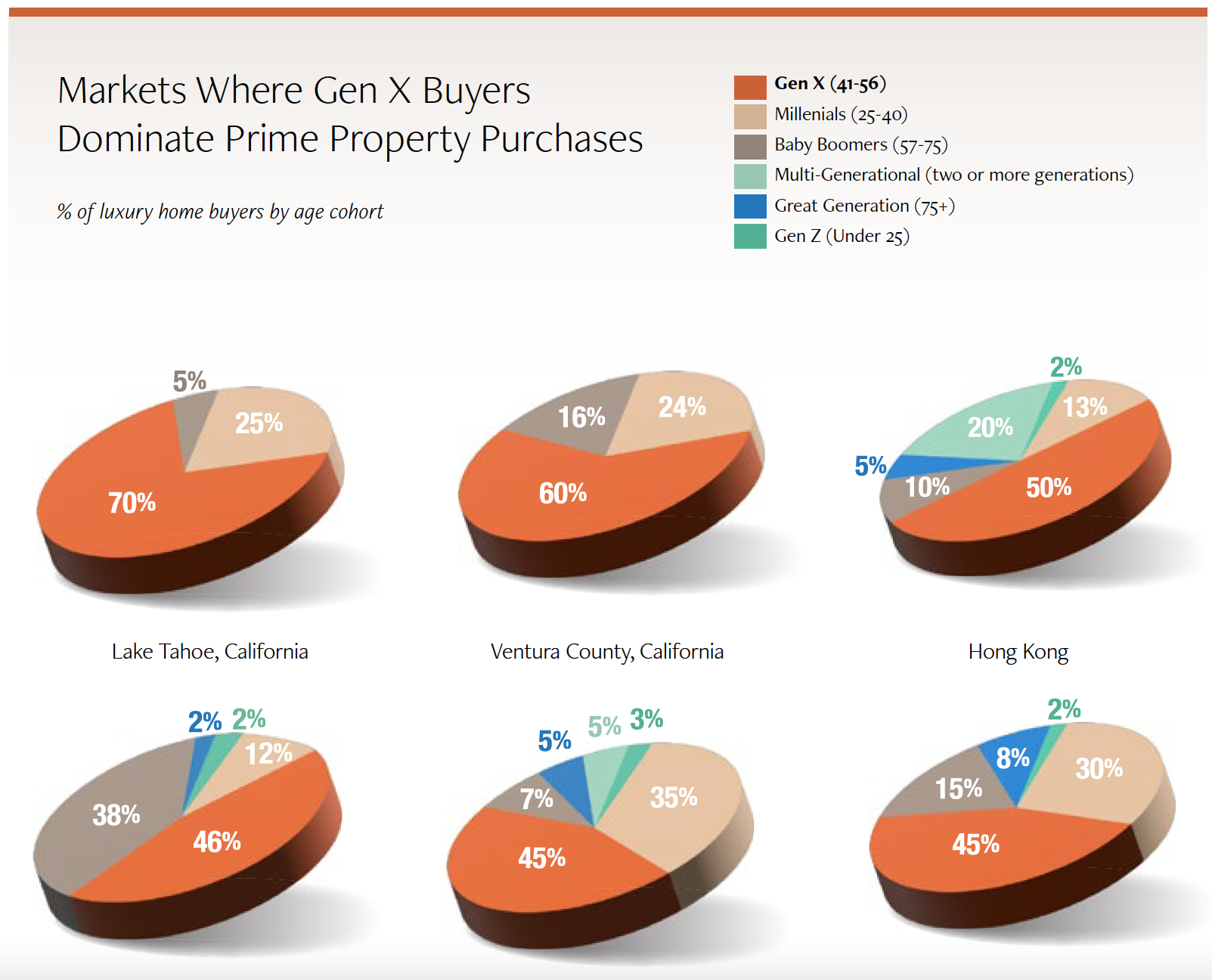 Hualalai Resort Estate in Kailua-Kona, "Hawai'i Life" Real Estate Brokers.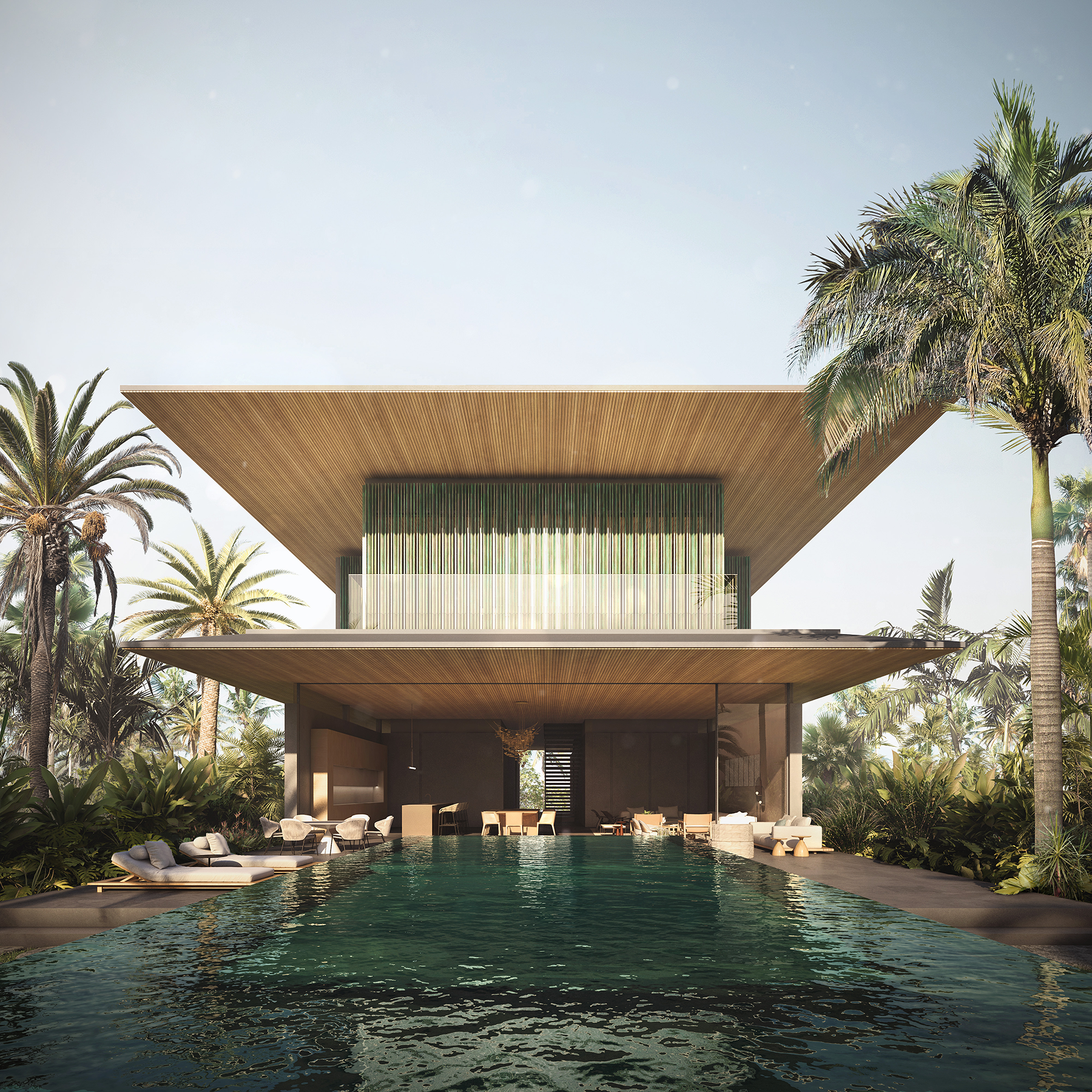 Sea Mirror In Dubia, United Arab Emirates, Driven Properties.
By comparison Gen X comprises 26% of the combined net worth of all billionaires worldwide. Accordingly, affluent Gen X buyers (ages 41 - 56) are a more important buyer group in certain luxury markets, as shown in Exhibit 2. "Millennials are very active, but the primary cohort remains Gen X," said Jeff Brown of Tahoe Mountain Realty in California's Lake Tahoe mountain resort area, where Gen X comprise 70% of luxury home buyers.
"With rise of cryptocurrency,

younger buyers are being introduced

to the buyer pool."
– Ryan Knowles of Maison Bahamas
In second-home markets, where the acquisition of a luxury vacation property has traditionally been a discretionary purchase supplemental to a primary residence, the number of younger buyers is also growing. This demographic shift has begun to impact the marketing approach of luxury real estate experts. "While sellers are still trending as Baby Boomers, we are seeing younger buyers in the Gen X range," observed Sara Roberts who oversees marketing for Slifer Smith & Frampton Real Estate in Colorado's ski resport regions of Aspen, Vail, and Summit County. "Our marketing reflects this; we gear many of our seller-focused messaging and tools towards the Baby Boomer generation, while our buyers' tools are geared toward a more tech-savvy Gen X and millennial customer."